A pre-trial hearing and bail-review hearing for Mammoth Lakes resident Amelia Markarian was held Tuesday, Oct. 10 in Mono County Superior Court in Bridgeport.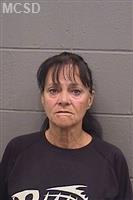 Markarian was charged by the Mono County District Attorney's office with second-degree murder, vehicular manslaughter while intoxicated, driving while under the influence of alcohol and with a blood-alcohol level of .08 or more and causing great bodily injury in a traffic collision that killed Coleville resident Christopher Harper on Sept. 7.
Mono County District Attorney Tim Kendall said Markarian's defense attorney asked the court to reduce her bail. The Mono County DA's office argued against it and the court kept bail set at $2 million.
The court set another pre-trial hearing for Dec. 4 before setting the matter for a preliminary hearing. She remains in custody.
During the early evening of September 7th, Markarian, age 65, was driving northbound on Highway 395, just south of Highway 89 in Mono County.
Officials reported that due to her intoxication she failed to negotiate a right-hand turn and crossed over the solid yellow line dividing the roadway. She collided head-on into Harper's vehicle, killing him instantly.
The Mono DA reported further investigation revealed that Ms. Markarian had a blood-alcohol level over the legal limit.
Markarian was arraigned on September 12th in the Bridgeport courthouse, and plead not guilty.