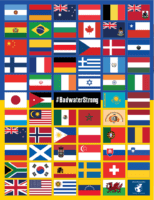 Lone Pine, CA: On July 11-13, 2022, AdventureCORPS will present its legendary BADWATER® 135 Ultramarathon, the 135-Mile World Championship. Now in its 45th year, this world-renowned event pits up to 100 of the world's toughest athletes against one another and the elements in a crucible like no other. From below sea level in scorching temperatures to altitudes as high as 8,360 feet (2548m), 95 endurance athletes representing 23 nations plus 28 American states and the Navajo Nation will face off in a grueling 135-mile non-stop running race from Death Valley to Mt. Whitney, CA. Widely recognized as "the world's toughest foot race," the invitational Badwater 135 is the most demanding and extreme running race on the planet.
The start line is at Badwater Basin, Death Valley, which marks the lowest elevation in North America at 282' (85m) below sea level. The race finishes at Whitney Portal at 8,300' (2530m). The course covers three mountain ranges for a total of 14,600' (4450m) of cumulative vertical ascent and 6,100' (1859m) of cumulative descent. Whitney Portal is the trailhead to the Mt. Whitney summit, the highest point in the contiguous United States. Competitors travel through places with names like Mushroom Rock, Furnace Creek, Salt Creek, Devil's Cornfield, Devil's Golf Course, Stovepipe Wells, Panamint Springs, Darwin, Keeler, Alabama Hills, and Lone Pine.
The Badwater 135 is held under permits from – and in close collaboration with – Death Valley National Park, California Department of Transportation, Inyo National Forest, and Inyo County.
AdventureCORPS – on behalf of all competitors and support crews – also gratefully acknowledges that these lands have been lived upon for at least 1000 years by native peoples, including the Timbisha Shoshone and the Lone Pine Paiute-Shoshone tribes who live on the race course today. We honor and share their deep reverence for these lands.
While runners began running the course in the 1970s, the race itself has been part of the fabric of life in Inyo County since 1987. A recent study indicated an annual economic impact of 1.2 million dollars, half of it spent in Death Valley National Park and surrounding gateway communities such as Lone Pine, CA. The race is supported by former U.S. Congressman Col. Paul Cook (Ret.) of California's 8th District, the Inyo County Board of Supervisors, the Lone Pine Chamber of Commerce, and a wide panorama of businesses and charities which are positively impacted.
ABOUT ADVENTURECORPS, INC.:
Oak Park, CA-based AdventureCORPS®, Inc. has made its name producing the world's toughest endurance races in dramatic, remote locations that few people would ever visit, let alone run or bike across. Held under the Badwater® banner, these events have allowed runners and bicyclists to explore the Death Valley, Salton Sea, Cape Fear, Mojave Desert, and the Nevada outback regions in the USA, as well as the Okanagan Valley of British Columbia, Mustang region of Nepal, Yunan Province of China, and now in the Republic of Armenia.
AdventureCORPS®, Inc. owns and represents BADWATER®, "The World's Toughest Brand, Gear, and Races." As a brand, BADWATER represents digging deep and going farther; it is the lifestyle brand for all who push their limits while exploring the outer and inner universes.
Badwater® is a federally registered trademark owned by AdventureCORPS, Inc.
More info: www.adventurecorps.com and www.badwater.com. 
CONTACT:
Chris Kostman
Chief Adventure Officer and Race Director
AdventureCORPS, Inc. 638 Lindero Canyon Road, #311
Oak Park, CA 91377 USA