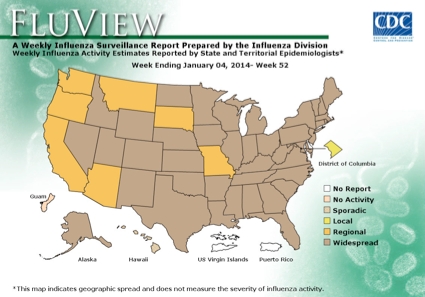 Time to Hunker Down – Influenza Has Arrived!  (press release, Public Health Officer Dr. Rick Johnson)
It's been a little over a month since our last Mono-Gram discussed the probability of an early and bad flu season.  Well, it is now happening.
Across the country, influenza activity continues its sharp rise, with reports of influenza-like-illness nearing what have been peak levels during moderately severe seasons. So far, there is no peak in sight, and this is predicted to be the worst flu season in decades. States in the west and southwest, including California, have lagged the rest of the nation in flu activity. This only means that we get a sneak peek at what we will be facing in the weeks to come.
In the reporting period ending Jan 4, 2013, 42 states reported geographically widespread flu activity, 7 had regional activity, and one reported sporadic activity. During the previous week, 31 states reported widespread flu activity. The H3N2 strain — typically associated with more-severe seasons – continued to dominate, constituting 98 percent of influenza A viruses that were subtyped, with the other 2 percent being pandemic 2009 H1N1.  The circulating strains continue to be well matched to the strains in the flu vaccine, and no resistance to antiviral drugs has been detected. The CDC reports that there have been 18 pediatric flu deaths so far this season. A number of otherwise healthy teenagers and young adults have died within 48 hours of becoming ill.
Southern California health departments have reported marked increases in visits to emergency departments and doctor's offices for respiratory illness during the month of December, much of which has been respiratory syncytial virus (RSV) instead of influenza. It appears that levels of influenza in Southern California were still low during the recent 2 week holiday period, sparing us a large influx of sick visitors. But that is changing.
Both visitors and locals returning from recent travel have brought the virus into our area in recent days. This is evidenced by a half dozen positive flu tests since the first of the year at Mammoth Hospital, and anecdotal reports from healthcare providers of increased respiratory illness, and of increased requests for Tamiflu at our local pharmacies. Therefore, we know the virus is here, and the most efficient spreader of the virus – kindergarten – is now back in session as of yesterday!
What should be our response locally?
While the influenza vaccine is not perfect, and needs to be given every year, it is the best protection people have against acquiring the infection. Since the "flu season" has just begun locally, there is still time to be vaccinated. Contact your healthcare provider, pharmacy, or health department.
Wash your hands often, and keep them away from your mouth, nose, and eyes.
If you get sick, cover your cough, stay home, drink plenty of fluids, and get plenty of rest. Contact your healthcare provider if you have concerns.
Remember, you do not catch a cold or the flu from being out in the cold – you must be around someone who gives it to you. So, eat well, drink plenty of fluids, dress warmly, and get plenty of exercise while you enjoy the beautiful outdoors!