The wet and wild storm that blew through the Eastern Sierra last week, unexpectedly opened the ski area for a few days, but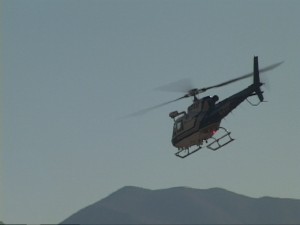 also ended up stranding two backpackers in the local mountains.
Mono Sheriff Officials report that the Search and Rescue Team was called out on Friday October 16, for a report of two backpackers stranded in Reds Meadow. The two men from Louis, California, 36-year-old Kevin Garbi and 46-year-old Randall Dennis, had started their trip at Lake Mary but had been stuck when the storm hit.
With soaked boots and camping gear, the two made it to Reds Meadow where they used the pay phone at the Reds Meadow Pack Station to call 911 on Friday. Sheriff officials say that the road to Reds Meadow wasnt in good condition to drive or snowmobile, so the two cold but uninjured men were picked up by CHP helicopter and flown out.