(News Release)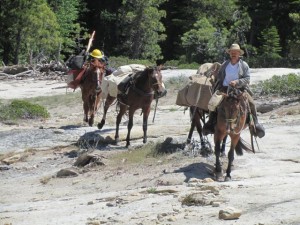 The Backcountry Horsemen of California, Eastern Sierra Unit would like to invite the public to their annual dinner and fund raiser.  The dinner will take place on Saturday, March 10th, 2012 at the Elks Lodge in Bishop, CA.  The entertainment and no-host bar starts at 5:30 pm with dinner being served at 7:00 pm.  Dinner is being catered by  Bunkhouse Catering and the entertainment is being provided by the Peavine Pickers.
For dinner, attendees have a choice of New York Steak or Ranch Hand Chicken.  The cost to attend is $30.00 per person.  Please RSVP by March 7th to Tim Trainor at 760-937-1449 or Florene Trainor at 760-937-0863.  It will be an evening of fun, good food, and a great way to kick off the backcountry season!  See you there!
The Backcountry Horsemen of California is a group of dedicated men and women actively participating as caretakers of the wilderness.  They are involved in preserving stock users' historic use of wilderness trails, they perform public service activities for the managing federal agencies and they are continually working to educate their members on how to be "Gentle Users" by practicing Leave No Trace methods and by treating other users with courtesy and consideration. California and the western states have a long tradition of using pack and saddle stock in the backcountry.  Backcountry Horsemen carry on this tradition in modern times.  With this use comes the responsibility and obligation to care for these wild lands and to ensure their use for future generations.