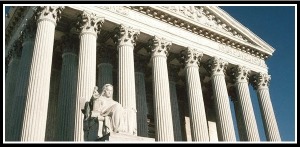 Last Thursday in US Bankruptcy Court in Sacramento, the Town of Mammoth Lakes and Mammoth Lakes Land Acquisition were ordered to go to mediation. The Court appointed Bankruptcy Judge Elizabeth Perris to serve as judicial mediator in the case.
Mammoth had filed a petition for bankruptcy protection July 3 after months of budget cuts and attempts to negotiate with MLLA. Town officials stated that they could not pay the $43 million lawsuit judgment owed to MLLA. They also said that MLLA refused to participate in the mandated 60-day mediation with creditors. MLLA's attorney Dan Brockett said there would be no point to further mediation considering the failure of months of talks and negotiations with Mammoth officials.
The Bankruptcy Court apparently disagreed. Judge Thomas Holman, who is assigned to Mammoth's case, issued an order to appoint Judge Perris to mediate. He also ordered the first mediation session for August 6 and 7 in Los Angeles. Assistant Town Manager Marianna Marysheva-Martinez said that the location has not yet been determined. She said the mediation would likely take place at either the offices of Attorney Ken Klee or at the MLLA attorney's facilities.
Martinez said that objections to Mammoth's eligibility for bankruptcy are due August 24. Attorney Brockett had earlier made it clear that MLLA will object and does not believe the Town is eligible for bankruptcy. Brockett said, "They didn't negotiate in good faith, and they are not insolvent." He said MLLA made offers Mammoth never responded to. Mammoth's lawyers say they invited MLLA six times to take part in mediation, and the firm declined.
Martinez said that Mammoth officials agree that the process set down by the Court should be followed. Martinez said, "The Town is emphasizing that there needs to be a timely resolution. It's important to leave this behind before next ski season," she said.
MLLA has asked the Court for more time and more information from Mammoth. Martinez said they want information relating to Mammoth's eligibility for bankruptcy including issues related to insolvency and a good faith process. She said MLLA also wants to examine if Mammoth's debt reduction plan is the best.
Attorneys Zack Clement and Bill Greendyke of Fulbright and Jaworski represented Mammoth at the Bankruptcy Court hearing as did Attorneys Ken Klee and Michael Tuchin of the firm Klee, Tuchin, Bogdanoff & Stern.
Mammoth will appear again before Judge Holman August 29 for a status conference.