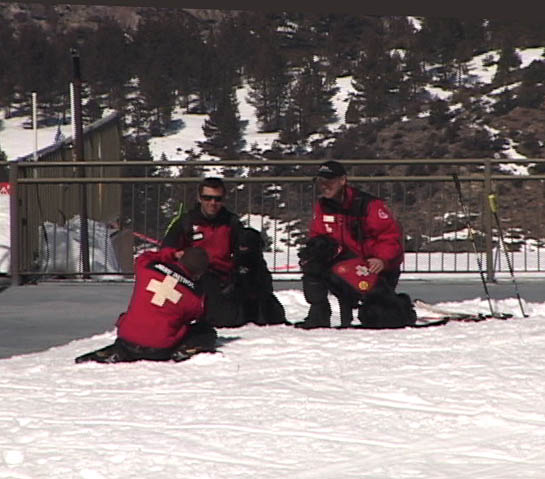 Last weekend June Mountain hosted a training and recertification program for Ski Patrollers and their trained Avalanche Rescue dogs.
Eric Diem, Ski Patrol Director at June Mountain, said that trainers and judges from California, Montana and Washington worked to certify five dogs for avalanche rescue. June Mountain Ski Patrol has previously been certified by the California Rescue Dog Association (CARDA) and is now working with the National Search Dog Alliance.
The recertification was conducted on the mid-mountain slopes of June Mountain near the main lodge and Ski Patrollers were physically buried to simulate a real live scenario for the dogs.
Diem says, "So they get the scent of the victim coming out of the hole. We bring the dogs in and work them in a grid pattern. And," he adds, "To them it's just a game. You gotta trust your dog and let them do their job."
Ruby, a six year old Black Lab whose home turf is June Mountain, clocked the fastest time to find two victims buried in a simulated avalanche debris field about the half the size of a football field. Judges allow for 20 minutes for the dogs to find the victims and Ruby did the test in 2 minutes.
Although Ruby is always on call, you can find her with Eric Diem on the hill on Tuesdays, which Eric calls Ruby Tuesdays, doing her training and participating in search and rescue operations at June Mountain.
Next week June Mountain Ski Patrol will be holding a fundraiser on Saturday, March 26th at the Gull Lake Community Center. The event starts at 6pm and tickets are $10 for adults and $5 for kids. This gets you dinner and a chance at great raffle prizes, plus education and information on avalanche awareness, backcountry preparedness and weather effects in the backcountry by local authorities.
Proceeds will go toward sending local ski patrollers to Squaw Valley for training by the Professional Ski Patrol Association.