Press release
Author and historian Robin Flinchum brought her passion for telling the stories of pioneering desert dwellers through meticulous research to bear on her informative new book, "Red Light Women of Death Valley." The work sheds light on the hardscrabble mining history of the region by exploring the interesting women who journeyed to the rough camps full of miners.
"Some of these women were fearless, powerful and clever; some were dramatic and blustery; some made poor choices; some had bad luck; some were incredibly successful; and some were not," Flinchum writes in the book's introduction.
The book focuses on the Death Valley's biggest boom-and-bust years, from about 1870 to the turn of the century. Prospectors, merchants and speculators came to the region looking for riches. They tossed up boom towns such as Cerro Gordo, Rhyolite and Panamint City. In time, dance hall girls and prostitutes made their way to the mining towns, too.
The book "tells the stories of women's lives, real flesh-and-blood women. They are not cautionary tales and are not meant to prove or disprove any statistical conclusion about sex work," she writes.
"But at the heart of his book is the driving need I've always felt simply to tell a good story."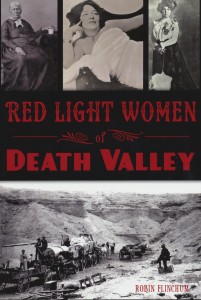 Flinchum will talk about some of those stories, take questions and sign copies of her book on Saturday, Oct. 24 from 1-3 p.m. at the Eastern California Museum. The event is free. The museum is at 155 N. Grant St., in Independence. Call 760-878-0258 for more information.
Some of the women are fairly well-known. Lola Travis was the wealthiest woman in Inyo
County, thanks to brothels in Cerro Gordo and Panamint, and a solid saloon in Lone Pine. She eventually married and became "respectable." Diamond Tooth Lil, the Belle of the Barbary Coast came to fame in Greenwater, in Death Valley, and went on to lead quite a life.
Lesser-known, and more tragic, is the tale of Mona Bell, who was murdered in Rhyolite, in a crime that was kept alive by the appeals and court maneuvers of the man who shot her, Fred Skinner. Flinchum also sheds light on an oft-neglected minority, with a chapter devoted to Chinese women in Darwin.
The women's stories are "a testament to the extraordinary things that women can do," Flinchum writes.
Flinchum's lively prose and detailed descriptions bring these women into focus, and provide a historically accurate and interesting overview of Death Valley's pioneering mining era. Flinchum's research is extensive and comprehensive, as shown in the book's bibliography which is a wonderful resource in itself.
For more information, call the Eastern California Museum at 760-878-0258.