Aurora Granado Lopez, 73, resident of Bishop, CA for 41 years, born in Deming, N. Mexico on December23, 1941 Passed away on June 2, 2015 peacefully at her home.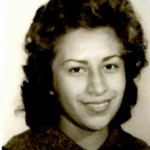 Aurora's love and joy were her grandchildren and great- grandchildren. She found pleasure in watching them in the many activities they were involved in and just sharing conversation with them. Her cherished times were early morning coffee with Kristopher, teatime with all her granddaughters and grandson Donald and council time for all as they sat or laid on her bed.
She enjoyed many hobbies during her life like crocheting, embroidery, jigsaw puzzles, bowling, gardening, watching novellas with her husband, cooking with her daughters and quilting. The homes of her family are decorated with many of her beautiful crochet and embroidery work as well as many quilts and afghans to keep her family warm.
The Lopez home was always open as Aurora and her husband Calie took in and welcomed family and friends during all of their married life. Sometimes it was for short visits but mainly raising or providing a home for long periods of time to loved ones in need. She was known to her children's friends as "mom" and to her grandchildren's friends as " grandma". She provided a great example of Matthew 25:31-40 until the Lord took her home that Tuesday afternoon. She will be greatly missed by all who knew her and were blessed by her touch in their lives.
Aurora is survived by her husband of 55 years Calie Lopez, sister Mary-lou Granado, aunt and uncle Natalia and Moses Acosta, daughter and son-in-law Tina and Rogelio Esparza, son Edward Lopez, daughter Debbie and son-in-law Jeff Clarkson, grandchildren Katrina and Juan Martinez, Kris Lopez, Donald Clarkson, Erica and Juan Esparza-Ambriz, Acacia Clarkson, Marisa Aurora-Jean Clarkson, Elizabeth Lopez-Esparza, great-grandchildren Xochitl Martinez, Juan Martinez Jr., Rogelio Josue Esparza, Alexa Itzel Ambriz-Esparza, nephew Patric Granado and numerous other nephews, nieces, cousins and friends.
Aurora is preceded in death by mother and father Manuela and Alberto Lechuga-Granado, brother Albert Granado and brother Raymond Granado.
Funeral Services for Aurora Granado Lopez will include a Rosary on Tuesday, June 9th at 7 PM at the Brune Mortuary 325 W. Elm Street, Bishop and a Mass on Wednesday, June 10th at 11 AM at the Our Lady of Perpetual Help Catholic Church 849 Home Street, Bishop. Interment will be private.