– Press release
Calling all actors, dancers and singers, we need YOU!! It's time to start tuning those vocal chords and limbering up those dancing legs as Playhouse 395 proudly announces the 2015 spring production of the musical show "Guys and Dolls." If you have ever harbored a secret desire to appear on the stage, or are a long-time "performance junkie," your time has arrived.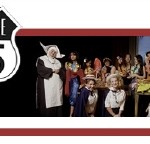 Set in the 1940's, gamblers, missionaries and night club performers mix it up in this hilarious satire about life on Broadway in New York City. All the big gamblers are in town for the biggest craps game of the year, but organizer Nathan Detroit needs money to set it up. Seeing a sure thing, Nathan bets high-roller Sky Masterson that Sky can't talk missionary Sarah Brown into going to Havana with him. To Nathan's dismay she accepts, and then the fun and fireworks really begin!
Auditions to take place at the newly remodeled Bishop High School Auditorium for "Guys and Dolls" to be held 9am to 5pm on Saturday, December 13, 2014, preceded by an audition workshop on Tuesday, December 9 from 6:30pm to 8pm with a possibleFriday audition TBA for hardship on Saturday.  Director Dave Hardin says that he will need men and women of all ages, including older teens but, sorry kids, there are no roles
for youngsters this time. There are even a few non-singing roles so give it a shot. The vocal audition should be accompanied and run between 60 and 90 seconds. Some simple dance moves will be taught at both the workshop and the audition. For more information,  call Playhouse 395 at (760) 920-9100 or email Director Dave at [email protected].
Make new friends and join the fun in "Guys and Dolls!"