By Deb Murphy
How would you feel if you found out your bottom line was $1.3 million less than you'd anticipated?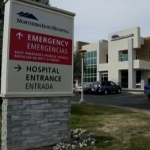 That was the crux of the auditor's report to the Northern Inyo Hospital Board of Directors at last Wednesday's meeting. The board took it pretty well, having been forewarned by Chief Executive Officer Victoria Alexander-Lane.
In reality, the $1.3 million, along with an additional $5.5 million over the last five years, is still there, safely tucked away to service the hospital's Capital Appreciation Bonds in 2020. The funds simply had not been properly included as a liability in past audit reports.
The total, $6.8 million, is an accrued liability on the hospital's bond issue. Capital Appreciation Bonds differ from the more common General Obligation Bonds in the way the interest and principal are paid back, according to Jeff Johnson, CPA title with Wipfli CPA and Consultants based in Wisconsin. Capital Appreciation Bonds are issued at a discount, making them more attractive to investors according to Johnson. The interest payments start when the bonds come due. That due date is 2020, so for the next six years, $1,326,585 will not show up on the hospital's net position.
The auditing news wasn't all bad news. Johnson told the board NIH's patient days had increased by 300 days with an 8.4 percent revenue increase. The hospital's operating margin compared favorably to other small hospitals. Just the net position, where the $1.3 million showed up, looked grim.