By Deb Murphy
The Adventure Trails pilot project still needs approval from the Los Angeles Department of Water and Power. But, according to Aqueduct Manager Jim Yannotta, the department has been talking to Inyo County staff and "will ultimately support" the program.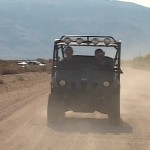 For Inyo County Public Works Director Clint Quilter, "time is of the essence." Public Works has to provide a report on the program by the end of 2015 and needs something to report on.
"There are some issues we need to be comfortable with," said Yannotta. Some of the seven routes, providing street access to trail heads, start at County campgrounds on LADWP leases. As the deepest pockets involved in the pilot project, LADWP has to be protected from lawsuits.  "It's indemnity language that can be worked through," Yannotta said.
LADWP also wants protection in the event of excessive dust and potential fines from Great Basin Unified Air Pollution Control District as well as damage to biological resources on those routes that lead to city-owned lands in the valley.
"With increased use," Yannotta said, "there's going to be additional wear and tear" on department-maintained roads. LADWP doesn't want to absorb maintenance costs beyond "normal wear and tear."
"We met with the County Wednesday," Yannotta said. "We want language that protects the City; we will be able to get this resolved."