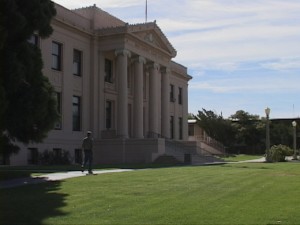 The Kern County District Attorney's Office will now prosecute former Inyo County Public Defender, Gerard Harvey, and Harveys Attorney calls this development, puzzling.
District Attorney Art Maillet is in the midst of a re-election bid. Gerard Harvey is his opponent. Harvey also faces five felony charges related to alleged witness intimidation. It is those cases that will now go to Kern County prosecutors.
Harveys Defense Attorney Tom Hardy, who had previously filed a motion to recuse the DAs office, says that he is puzzled by the DAs decision to now voluntarily recuse his office when he had previously fought it.
My understanding of California law is that the office of the Attorney General is responsible for handling conflict of interest cases for local District Attorneys, and I am puzzled as to why, if the Inyo County District Attorney has a conflict of interest, the Attorney Generals office is not handling this matter, Hardy says.
When we asked Maillet why the Attorney General was not handling the case, he explained that the Attorney Generals Office says that there is no conflict of interest since the Inyo Superior Court ruled against recusal of the DA in Harvey's case. Maillet said the point is to avoid questions of his integrity during a political campaign.
Maillet said, I have reason to believe that prosecuting my political opponent may cause some members of the community to question the integrity of my office.
When asked why someone else on his staff could not prosecute the case, Maillet explained that while a larger county might be able to do this, his four attorneys (which includes Maillet) make up, too small of an office to put up a firewall.
With the county likely to pay for a case that will be handled by another county for political reasons, Mailett also explained that he expects the cost to be minimal as the his office gave the Kern County DA a case that is ready for trial. The actual cost is unknown, but Maillet explained that in the past, Mono District Attorney George Booth handled a case for Inyo County free of charge.
As it stands now, Harvey is set for trial April 26th, with the Kern County District Attorneys office prosecuting the case in Inyo County Court.