Inyo District Attorney Art Maillet's motion to disqualify Public Defender Elizabeth Corpora from representation of murder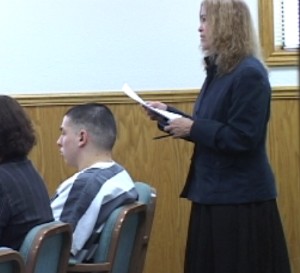 suspect Louis Leplat was continued this week to a status conference next week.
DA Maillet wants Corpora removed from the Leplat case. He claims that because she earlier represented one of his witnesses creates a conflict of interest for her to now represent Leplat.
In court filings, Corpora strongly denies that she has any conflict. Her written responses say that she did not learn anything in her earlier representation of Daniel Casteel that would impact her current representation of Leplat. Casteel had faced charges of embezzlement, drug possession and phone harassment. Now, he is a prosecution witness against Leplat. Corpora also points out that DA Maillet waited for a year to make this an issue.
Court documents say that Casteel wore a wire and taped Leplat as he questioned him for the DA. Corpora wrote that if there is any conflict, it was created by Casteel who decided to become a snitch for the DA.
A court conference is scheduled on this matter for next Tuesday, October 12th in Independence.