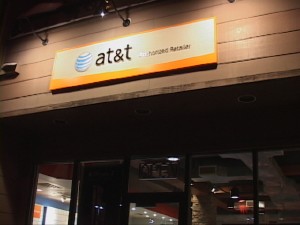 Starting on Valentine's Day and continuing into the heavy traffic of President's Holiday, AT&T cell phone users in Mammoth Lakes ran into the frustration of spotty service. The Mammoth AT&T office said the angry callers continue to dial their number. They told Sierra Wave Media that technicians are "wirelessly diagnosing the problems" from Southern California.
We talked to some Mammoth residents who said their service has been on and off. Amber Dessert of AT&T in Mammoth Lakes told us that the staff has "been getting calls complaining about service all day long."  She said something is going on with service, but they don't know what. Technicians in Southern California, she said, are checking on the five or so towers in Mammoth Lakes by means of the internet.
Ms. Dessert said that she knows of five towers in Mammoth Lakes – behind Vons, on Main Street, at the Westin, on Old Mammoth Road, in the Lakes Basin and at Mammoth Mountain.
As wireless diagnostics go on, the local office continued to get "hair raising calls" from unhappy customers.