Next week, scheduled air service will actually get underway at Mammoth-Yosemite Airport. On December 18th, Horizon Air will land the first plane at the airport with visitors from Los Angeles.
After a void of air service for many years, the arrival of the Horizon Air jet marks a milestone. The flight is scheduled to land in Mammoth Thursday, December 18th at 3:20pm.
On a nuts and bolts level, the airport recently saw a required live fire drill. Airport Manager Bill Manning explained that every three years the fire drill is required to maintain airport certification.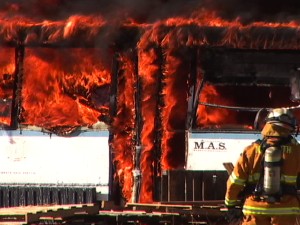 Our Cleland Hoff was on hand for the dramatic drill in which old buses were set on fire. Firefighters from Long Valley and Mammoth Lakes worked the drill. Cleland talked to Long Valley Fire Chief Fred Stump, who said that there were two objectives in the drill.
Chief Stump said that the first point was to give Mammoths crash rescue vehicle a chance to work in a live fire setting. The second objective to give Mammoth and Long Valley fire fighters a chance to function in the environment if an aircraft incident happened.
Chief Stump said that in a real event the issues would be water availability at the actual crash site and response times to the airport.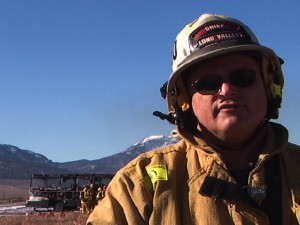 In the case of a real fire emergency, Long Valley and Mammoth would respond, along with other agencies.