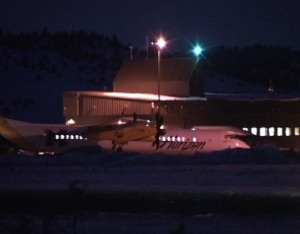 OP/ED – IS MAMMOTH YOSEMITE AIRPORT SAFE?
March 14, 2012
The short answer is that of course Mammoth Yosemite Airport is safe. But you may have heard talk that would lead you to believe Mammoth Yosemite Airport (MMH) has so many deficiencies that it is unsafe and the Town is ignoring these deficiencies. Some even say that MMH was chosen for air service strictly due to its convenience and that the Bishop Eastern Sierra Regional Airport (BIH) would have been a better choice. If you are interested to know why MMH is safe then it's worth looking at the way a commercial airport is certified and how airlines operate.
The FAA certifies airports with scheduled air service using the rules specified under CFR Part 139. Airports are surveyed, checked for obstructions and evaluated for other safety issues. Certain deficiencies have to be resolved prior to certification. Training and security programs are implemented and the airport staff is required to write an operations and safety plan known as an Airport Certification Manual (ACM). After the airport is certified it is regularly inspected by FAA Airport Safety Certification Inspectors. Airport standards have continually evolved since the days when the airlines primarily flew mailbags around. The majority of airports were built before most of these standards were in place so airports are regularly being upgraded to meet them.
An airport might not meet all of the current standards but a commercial air carrier can still operate there and the deviations can be dealt with in a number of ways. Most airports have at least some "Modifications to Standards". These may only apply for a particular category of aircraft. I've mentioned Burbank Bob Hope Airport (BUR) in the past as a prime example. Much of Burbank's terminal and aircraft gates lie within the Runway Safety Area (RSA) which is a fairly serious violation in the eyes of the FAA. It requires a "Modification to Standards" to certify BUR airport for C-III aircraft operations. (The C-III corresponds to the size and approach speed of a particular aircraft.) Resolving RSA violations is currently an FAA funding priority. MMH has very few and relatively minor RSA violations that will be resolved when the new MMH Airport Layout Plan (ALP) is approved.
The FAA allows Alaska Airlines to operate a Category C-III aircraft into MMH even though the airport is classified Category B-III. The new MMH ALP will propose upgrading the airport to C-III status. One of the deviations to standards at MMH is the runway to taxiway centerline separation does not meet the C-III standard. The standard dictates this spacing should be at least 400 feet and MMH currently has a 300 foot separation (BUR also has a very similar issue). The FAA does not deem this deviation serious enough to prevent Alaska Airlines and United Express from currently operating into MMH.
Even though the taxiway-runway separation doesn't meet the current C-III standard, the airport design consultant for MMH has stated "…that no portion of the aircraft [that are] forecast to use the airport will penetrate the runway protection zone (RPZ) while operating on the parallel taxiway." A second consultant agrees with his findings. That said, the FAA could require the Town and the airport to address this deficiency someday which will involve moving the taxiway and some hangars at considerable cost. Fortunately the FAA will also foot most of the bill when and if this is required.
Some deviations to standards cannot be mitigated by simply changing something at the airport. It usually has to do with high terrain or some other obstruction, perhaps on the approach or departure. The FAA and the air carriers handle these airports case by case and might impose special operating rules. The FAA denotes some airports as a "Special Pilot-In-Command Qualification" airport which will be listed in the airline's OPSPECS. Alternatively, the airport might be noted in the air carrier's Flight Operations Manual (FOM) as a "Special Airport". This means there are specific procedures to follow and the flight crew is specially trained and briefed on operating at the airport.
Mammoth Yosemite Airport is designated as a "Special Airport" by both Alaska Airlines and United Express. Airports such as Burbank (BUR), San Diego (SAN) and Jackson Hole (JAC) fall under the FAA "Special PIC Qualification" category. You might be surprised to learn that even San Francisco (SFO) is a "Special PIC Qual" airport due to high terrain off the departure end of runways 28L and 28R.
CFR Part 139 Airport Certification and special air carrier procedures are only two ways of handling the safety considerations for commercial flights. A myriad of other safety procedures and equipment are embedded into the system. Most are invisible to the average passenger. For example, today's aircraft have weather radar, terrain avoidance equipment, and collision avoidance systems onboard. A big part of air crew training focuses on terrain awareness and wind shear procedures.
Finally, during daily operations, the airline dispatcher and the Captain of the aircraft have joint responsibility to sign off the flight plan before the flight departs. Both must be satisfied that the flight can operate safely and either one has the authority to cancel the flight if there is a concern. Once the aircraft is released for departure, it is the flight crew who is the final authority as to whether a flight will take-off or land at an airport. An airline crew has many resources available to help make that decision in real-time.
Can MMH be a challenging airport to operate into? Sure. So is Chicago O'Hare in a snowstorm. Is MMH unsafe? Absolutely not. That doesn't mean there aren't improvements that can be made. That is why the Town, in conjunction with an airfield design consultant and the FAA, are currently reviewing a new ALP. After the plan is officially submitted, the FAA will prioritize and help fund mitigation of the most important issues that affect MMH.
I'm sure you've heard this before: You are statistically safer riding in a commercial airliner than driving in an automobile. So next time someone tries to scare you into thinking MMH is substandard or unsafe, remind yourself that the most perilous part of your journey is that drive to or from the airport.
Lee Hughes
Airport Commissioner
Mammoth Lakes, CA