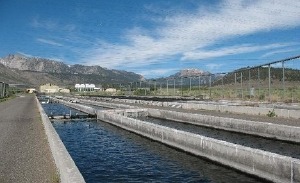 CDFW Hot Creek Hatchery to Host First Trout Fest  (Press Release)
The Hot Creek Hatchery in Mono County will host its first family-friendly Trout Fest on Saturday, June 29 from 10 a.m. to 2 p.m.  Trout Fest is a free fishing celebration that introduces people to the sport of trout fishing and gives the public a close up view of the millions of trout on site and hatchery operations.
CDFW staff and volunteers teach attendees the basics of trout fishing from knot-tying to catching, cleaning and cooking trout.  Fly-fishing groups will demonstrate the art of fly-tying, casting and catch-and-release techniques.
Children can feed the fish in the raceways and try their hands (literally) at catching a trout in the either the raceway or the onsite ponds. Art activities will run continuously, including gyotaku, the traditional Japanese art of fish printing, wildlife stamp tattoos and face painting.
The trout tasting booth features grilling demonstrations, free recipes and samples of foil-wrapped barbecued trout.  CDFW will also feature its 1928 Dodge Hatchery Planting Truck, and wildlife officers will be on hand to answer questions and demonstrate how their K9 units operate. Visitors  will be able to see various life stages of trout up close in the living stream display.
Admission to the Trout Fest and all related activities are free. All tackle is provided. No outside tackle or rods are allowed. Children 15 and under can fish with a one-fish limit.
The Hot Creek Hatchery is located about 37 miles north of Bishop, or 3.5 miles south of the junction of U.S. Highway 395 and State Route 203, near the Mammoth-Yosemite Airport, follow the signs for parking.