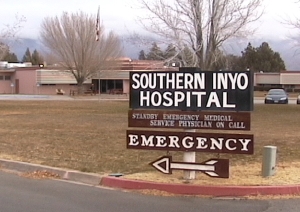 Citizens will have a chance to talk to a representative of Assemblywoman Connie Conway's office today. Justin Stoner planned to hold office hours in Lone Pine from 11am to 3pm.
Fifth District Supervisor Matt Kingsley urged citizens to talk to Stoner about keeping Southern Inyo Hospital open by changing Medi-Cal cuts. Those cuts would diminish funds to the Southern Inyo Hospital Skilled Nursing Facility. It would likely close and the hospital would likely follow.
Supervisor Kingsley said that Mr. Stoner would be available to "take input on state issues that affect us locally like the State Fire Tax/ Fee and AB 946 that threatens to close our hospital."
Kingsley said, "I believe that a strong showing of support and engagement from our community will have an effect on Connie's level of interest in our hospital issue in particular."
Supervisor Kingsley said he would host Justin Stoner in his office in the southeast corner of "The Building" at 325 South Main St. in Lone Pine today from 11am to 3pm.