By Deb Murphy
Candidate for the 26th Assembly District Jose Sigala acknowledged Inyo County voters helped put him on the November ballot. He spent this past weekend meeting with local residents from Lone Pine to Bishop.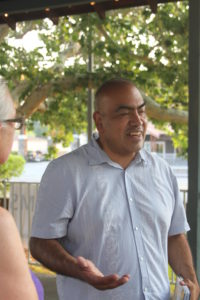 Currently a member of the Tulare City Council, Sigala started his Inyo tour with a meeting with members of the Owens Valley Committee. According to Nina Weisman with the Inyo County Democratic Central Committee, Sigala knows the players in Los Angeles having worked for City Councilmember Richard Alarcon. He was also involved revitalizing the Los Angeles River and currently sits on the North Kaweah Groundwater Sustainability Agency.
In Big Pine, Sigala met with more than a dozen community leaders before heading to Bishop City Park for a scheduled event.
The Bishop event turn-out was slim, but gave Sigala an opportunity to address specific issues: the high-speed rail system will bring people together but it's over budget and behind schedule; education is a top priority and the money should be kept in the classrooms; there's money available for housing, homeless and community development projects and Sigala's goal is to bring a chunk of that money to his district.
He's supportive of the concept of sanctuary cities. "If an undocumented resident commits a crime, they should be deported," he said. But the immigrant community needs to feel safe and trust law enforcement.
How will he keep in contact with issues in Inyo, an area far different than the Central Valley? Sigala's solution would be advisory committees to keep him in touch with communities on the East Side.
Sunday, Sigala met with residents at Bishop's Pup Fish Café, then headed to Lone Pine in the early afternoon. According to Weisman, the turnout totaled 30 locals. The candidate plans a second visit closer to the November election.
A Democrat, Sigala garnered more Inyo County votes than incumbent Devon Mathis and Warren Gubler, both Republicans. District-wide Mathis took the top spot with slim margins separating he, Sigala and Gubler. The November election isn't a given for either of the two top vote-getters.