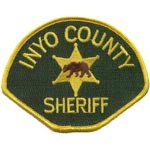 A car accident in the Bishop area Tuesday night is being investigated as an assault.
Inyo Sheriff officials report that at about 8:20 Tuesday night, officers responded to a report of a male adult who was the possible victim of a battery by an unknown assailant.
On scene, near the Barlow Gym, Officers found a 27-year-old Bishop man lying in brush next to his car, unconscious and bleeding. Officials say that the victims vehicle had been vandalized. The victim was taken to Northern Inyo Hospital where he was treated and released.
Officers believe that the man was the target of a possible physical assault.
Sheriff Officials ask that anyone with any information related to this case to please call the Inyo Sheriffs Department at 878-0383.