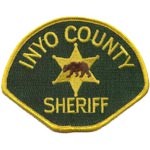 Around 10:30pm, June 13th, Inyo Sheriff's deputies responded to a call in the Wilkerson Ranch area. Officers said they determined that a suspect had fired at least one shot at a victim inside a home. The suspect, Scott Chad Smith, 40, of Bishop, was found the next day, arrested and jailed for attempted murder. He appeared for an arraignment in Inyo Superior Court on Tuesday. He was charged with three felonies and a misdemeanor.
According to the Court, Smith faces felony assault with a firearm and a felony charge of possessing a firearm after having been convicted in the last ten years of domestic violence. He faces felony discharge of a firearm at an inhabited dwelling, and Smith was charged with misdemeanor domestic violence on a person with a dating relationship or a co-habitant.
The Court said Smith's initial $500,000 bail was reduced to $280,000. At last word, Smith was still in custody at the Inyo County Jail. He is scheduled to appear for a settlement conference on June 25th and a preliminary hearing on July 2nd.