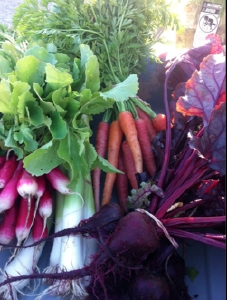 Farmers and Artisan Christmas Market Dec. 13 in Lone Pine
The Owens Valley Growers Cooperative is hosting an Artisan Christmas Market as part of its regular Farmers Market on Friday, Dec. 13, from 4-6 pm at the Metabolic Studio IOU Garden, Willow at Main St., in Lone Pine.
Farmers will be featuring lettuce and seasonal greens, root vegetables, herbs, and winter squash.
Local artisans will include Drew Wickman, Jude Greenburgh, Glenn Young and Sherry Cosgrove, Jeanie Smith,  and Barbara Leachman.
For More information call 510-468-7113.