Arthur Magill was born on September 17, 1928, to Ross and Ellen Mallory Magill in Round Valley/Bishop, CA.   Arthur passed away on May 27, 2017 at Southern Inyo Care Center in Lone Pine, CA.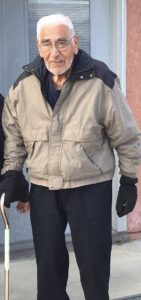 Arthur attended school in Bishop; graduating from Bishop Union High School in June 1947.  He served in the United States Army and was sent overseas to Korea during the Korean conflict.  He received a honorable discharge on September 18, 1956.  After being discharged from the service he moved to Los Angeles, Ca, were he attended Los Angeles City College.  He worked as a machinist for General Motors in South Gate, CA, until the plant relocated.  Arthur loved Los Angeles and often referred to it as "my LA".
Arthur returned to Bishop in October 2005.   He enjoyed gardening, gambling, reading the LA Times and just sitting in the sun.  He joins his mother Ellen; father Ross; step-father Carlos Arbonies and brother Carlos Jr. in heaven.  Arthur will be missed by his sister, Isabel Alvey of Bishop, CA; three nieces, Barbara Schuster & family of Corona, CA; Joyce Alvey & family and Geraldine Weaver & family of Bishop and numerous extended family members and friends.  
Graveside services will be held on Saturday, June 17, 2017, 11:00 a.m. at the East Line Cemetery.  A reception will follow at the Barlow Lane Gym.  
Arthur walked everywhere.  He was 88 years old and never let his age hold him back.  Arthur's family would thank all those who showed Arthur kindness by giving him a ride whenever they could.  We know he appreciated it.