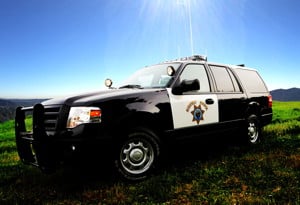 On Sunday, June 15, 2014, at approximately 2:51 A.M., California Highway Patrol (CHP) Bishop Communications Center received a call for assistance from the United States Marine Corp Mountain Warfare Training Center Police Department (MWTC-PD).  MWTC-PD was requesting assistance at the Lincoln Military Housing complex in Coleville. 
CHP Bridgeport Area officers arrived and were advised by MWTC-PD that Mr. Dustin J. Becker, age 28, of Oakland, California, was being detained for possession of controlled substances. MWTC-PD advised CHP officers that Mr. Becker had driven up to the guard gated entrance of the military housing complex stating he was lost.  When asked to provide identification, Mr. Becker was unable to. 
Mr. Becker was detained by MWTC-PD and a search resulted in the discovery of multiple controlled substances.  Mr. Becker had been driving the vehicle while his driver license was suspended.  CHP officers arrested Mr. Becker for multiple driving and felony drug violations, towed his vehicle from the scene and he was transported and booked in to the Mono County Sheriff's Department Jail in Bridgeport, California.  Mono County Sheriff's Department and Mono County Narcotics Enforcement Team assisted CHP personnel.