– Press release from the Inyo County Sheriff's Office:
On Sunday, July 21st at approximately 10:20 PM, Sheriff's Dispatch was contacted regarding an armed robbery and stabbing that occurred at the Pearsonville Shell gas station.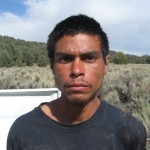 Due to flooding that was affecting Highway 395 near Dunmovin, Inyo County Sheriff's Office requested assistance from Kern County Sheriff's Office and California Highway Patrol.
Prior to the Inyo County Sheriff's Deputies responding on scene, the victim was transported to the Ridgecrest hospital, and then flown to Bakersfield for emergency treatment.
The victim, who was an employee of the Shell station, was severely attacked; injuries included facial lacerations, punctured lung, and broken rib. The victim was able to give a partial description of the subject on Sunday evening.
The description, coupled with the image that Sheriff's Investigators were able to retrieve from surveillance video, were enough information for a "be-on-the-look-out" to be issued to local and allied agencies.
On Tuesday, July 23rd at approximately 4:00 PM, Tulare County Sheriff's Office received a report of a potential carjacking and stabbing in the Kennedy Meadows area.
At the request of Tulare County S.O., Inyo County responded (due to mudslide activity that was affecting roadways on the Tulare side). Deputies on scene were able to determine that the general description of the subject matched the description of the subject from the recent stabbing in Pearsonville.
The suspect was apprehended at the scene without incident. The suspect was identified as Johnny Pulido-Gonzalez, 24 years old from Los Angeles.
On Wednesday July 24th, Investigators from Inyo County Sheriff's Office drove to Visalia to interview the Pulido-Gonzalez, where he admitted he was the suspect in the armed robbery and attempted murder in Pearsonville. Currently Pulido-Gonzalez is being held in Tulare County on attempted murder charges.
Inyo County Sheriff's Office will be requesting a warrant from the Inyo County District Attorney for separate charges of armed robbery and attempted murder.