Four Shillings Short, the music duo of Aodh Og (pronounced Ay-Og) O'Tuama and Christy Martin, tour the Eastern Sierra this week to perform their eclectic blend of Folk, Celtic and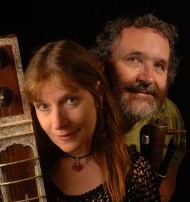 World music.
Since inception in the Bay Area in 1985, Four Shillings Short has taken an experimental approach to folk and traditional music. Martin says that between the two they play 30 different musical instruments, playing them in traditional styles as well as adapting them to transcend genres and traditions.
In a single evening, the duo performs Traditional Irish tunes, Indian Ragas, Folk Ballads, Medieval and Renaissance instrumentals, a cappella numbers as well as contemporary folk and original compositions.
Four Shillings Short have created a program geared toward schools and libraries to introduce young audiences to the range of instruments and music in their repertoire. All performances are free and family friendly with one show, in Mammoth Lakes, specifically geared toward children.
Martin says they believe strongly in providing an opportunity for everyone to enjoy music, specifically, she says, "without economic barrier."
Five performances in five days will take the duo from Bridgeport to Bishop between Tuesday, October 12th and Saturday October 13th. This Eastside tour will be the culmination of 2 _ years of touring the western United States and next year they begin a 2 _ year road trip east of the Rockies. Martin says they hope to be back in the Eastern Sierra in October 2013.
Performances this week are scheduled as follows:
TUES: OCT 12
6:00 – 7:30pm
BRIDGEPORT PUBLIC LIBRARY
94 North School Street
Bridgeport, CA 93517
(760) 932-7482
FREE FAMILY CONCERT
WED: OCT 13
MAMMOTH LAKES LIBRARY
10:30am – kids concert
5:00 pm – family concert
400 Sierra Park Rd
Mammoth lakes, CA 93546
760-934-4777
FREE FAMILY CONCERTS
THUR: OCT 14
1:00 – 2:00PM
COLEVILLE HIGH SCHOOL
111591 Highway 395
In the Gymnasium
Coleville, CA, 96107
(530) 495-2788
FREE FAMILY CONCERT SPONSORED BY COLEVILLE PUBLIC LIBRARY
FRI: OCT 15
Potluck: 6pm
Concert: 7pm to 9:30pm
Celtic/Folk/World concert
SPELLBINDER BOOKS
124 S. Main St.
Bishop, CA 93514
760/873-4511
Donation
SAT: OCT 16
7:00pm
JUNE LAKE COMMUNITY CENTER
90 West Granite Ave.
June Lake, CA
(760) 648-7284
FREE FAMILY CONCERT SPONSORED BY JUNE LAKE PUBLIC LIBRARY
Learn more about Four Shillings Short log on to www.FourShillingsShort.com.