The strong and widespread impact of the life of Andrea Lawrence will mean a large and very public memorial on what would have been her 77th birthday, April 19th. Originally, the family thought the memorial would take place in May, but decided on the earlier date. Family members are working on the exact location and other details.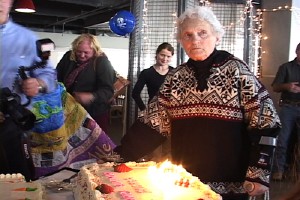 For now, they did ask that in lieu of flowers, those who wish may donate to the Andrea Lawrence Institute of Mountains and Rivers (ALIMAR). Go to www.alimar.org for information, or mail donation to ALIMAR, P.O.Box 100, PMB334, Mammoth Lakes, CA 93546.
Many continue to pay tribute to Lawrence. The Los Angeles Times published a lengthy obituary on Thursday, April 2nd. The article chronicled Lawrence's remarkable fights on behalf of the environment. Her early group, The Friends of Mammoth, used the California Environmental Quality Act to question the impacts of an eight-story condominium project in Mammoth. The case went all the way to the Supreme Court and laid the foundation for citizen enforcement of that state law. Tony Rossman, welll-known California water attorney who represented Inyo County in earlier years, was quoted in the Times as saying, "Andrea in her lifetime was the most significant and effective citizen activist in California."
Another cause championed by Lawrence was Mono Lake. The Mono Lake Committee posted a tribute to Lawrence.
Andrea Lawrence is survived by sons Cortlandt and Matthew; daughters Deirdre, Leslie and Quentin; brother Peter Mead and four grandchildren.