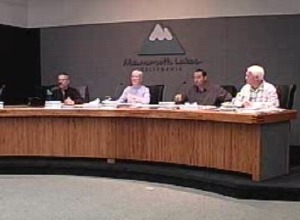 The Mammoth Town Council was scheduled for a special meeting Wednesday in Suite Z at 9am to interview two applicants for the Building Advisory Committee/ Board of appeals.  They are Jesse Baldwin and John Clark.  The Council will make appointments to the Committee during their regular meeting tonight.  Also, another special meeting to tour Mammoth Airport at 3pm was cancelled.
At last word, no new developments on the MLLA $42 million debt against the Town of Mammoth Lakes.  Even so, the Mammoth Town Council will meet in closed session on that issue Wednesday night.
The closed session is scheduled for 5pm on the MLLA legal issue. If there is any action in the closed session, the Council will announce that action when they go back into public.
The Council is expected to take action on appointment of two candidates to seats on the Town Council.  About an hour into the meeting, the Council will consider a resolution that would lead to appointment of Jo Bacon and Michael Raimondo to two seats up for election in June.  Bacon and Raimondo were the only two candidates to file for the two open seats of Bacon and Skip Harvey.  So, there is no race.
Other items before the Council include Measure R applications for funding and Measure U awards.  First in Wednesday's meeting is a presentation on the semi-annual progress report from Mammoth Lakes Housing, Inc.