The road to demolition of the Cottonwood Plaza in Bishop has started. Gary Schley with the City of Bishop confirmed that Triad Engineering on behalf of Richard Maudsley has sent in additional information for a demolition application.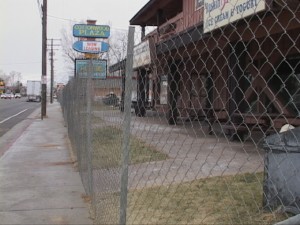 Maudsley is the former lessee of the plaza. He said that master lessee, Chuck Caldwell, maintains that Maudsley has a legal obligation to tear down the plaza. Maudsley's application is actually for the environmental review of the demolition process. Schley said he will now check out the application to make sure it is complete.
The Bishop public has reacted with anger and disappointment at the closure of the plaza and the prospect of demolition. Some have asked City officials to put a stop to the demise of the center. Officials say it's private property, and they have no control.
The environmental review process involves an initial study, comments from all department heads and comments from the public. Schley said the whole process takes about three months.
Meanwhile, the plaza remains closed and surrounded by chain link fence.