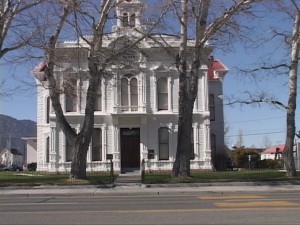 While former Mono County Deputy Jon Madrid sues Mono County and Sheriff's personnel in federal court for violating his right of free speech, Mono County has filed a writ to appeal the arbitration that ordered Madrid to be reinstated and given full back pay.
In the federal case, Madrid's attorney alleges a pattern of retaliation against his client once Madrid spoke out about policies of handling medications in the jail and about an alleged falsified report by another officer.
Former Mono Sheriff Rick Scholl terminated Madrid in 2011. The Sheriff alleged that Madrid violated performance standards, used poor judgment, was insubordinate, misused a cell phone, and falsified time sheets for $380.
The Sheriff alleged that Madrid's history of "questionable honesty" led to his firing.
Arbitrator John D. Perone disagreed after hearing testimony, some of which was from other deputies who said they had made mistakes on time sheets but were told about it and not accused of theft.
Arbitrator Perone wrote in his decision that six months after Madrid went on administrative leave, Sheriff Scholl, then-Undersheriff Ralph Obenberger and Lieutenant Rob Weber decided to reassign Deputy Madrid to sit in a chair in the Sheriff's Office lobby as punishment. The arbitration decision said that when Madrid fell asleep in the chair, the Sheriff launched an Internal Affairs Investigation for sleeping on the job. Arbitrator Perone called this "an abuse of discretion."
Perone also said Sheriff's management acted in a "discriminatory and capricious manner which was unreasonable under the circumstances." He wrote that charges against Jon Madrid were not proven by a preponderance of evidence and just cause for his termination does not exist. He dismissed charges and ordered reinstatement of Madrid with back pay.
Mono County has not reinstated Madrid. Instead the County hired a Los Angeles law firm to file a writ that appeals the arbitrator's decision. Mono County claims the arbitrator exceeded his jurisdiction and committed a prejudicial abuse of discretion because his decision was not supported by the findings. The County wants the Court to set aside the Arbitrator's decision and issue an order that upholds Madrid's dismissal.