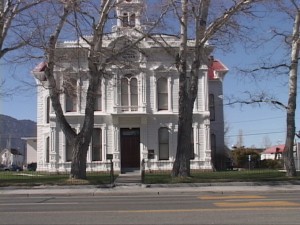 Richard Luman, a Mono County Public Works mechanic for 15 years, lost his job last October.  He says his supervisor created a hostile work place and assaulted him. Luman's appeal hearing, originally set for two days, has continued on into the second week.
Luman's attorney, Katie Bellomo of Mono City, said that last week, two members of the Personal Appeal Board, Ralph Obenberger and Ken Goode, declared that the third board member, Tim Hansen, was "biased" and should step down.  Bellomo said the board members later changed their minds.
After that bit of confusion, Bellomo began to present her case.  She said her witnesses testified to a hostile work environment – an angry and belligerent supervisor.  Bellomo said when she put on an eye witness, Mono County raised an earlier evidence ruling by the appeal board that restricted presentation of evidence.  The appeal board agreed that they did make an error and moved to allow more witnesses.
Bellomo said that ruling caused her to re-group.  She said that Mono County will present "additional documentary evidence on Dick Luman.  This will open a can of worms," she said.  As a result, Bellomo has made a list of witnesses to be subpoenaed for Mr. Luman's case.  That list includes District Attorney George Booth, Assistant DA Tim Kendall, Undersheriff Ralph Obenberger, Lt. Robert Weber, Mono DA Investigator Wade McCammond, Supervisor Hap Hazard, Mono Risk Manager Rita Sherman and Custodians of Records for the Mono DA and Mono Sheriff.
Attorney Bellomo said her witnesses also include Mr. Luman and three Road Department workers who will testify to the behavior in the work place and what she alleges was Mono County "not controlling a hostile work environment."  Bellomo called this "an extremely political case when it should be a simple personnel case."
Because of the delays and long periods of time involved in the appeal, Bellomo said she would ask the Mono Supervisors, as a show of good faith, to put Mr. Luman on paid administrative leave pending the outcome of the appeal hearing.
Sierra Wave Media contacted attorney John Vallejo of the Mono County Counsel's office for the other side of the story, but Vallejo said he could not comment on personnel matters.