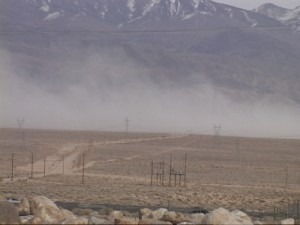 In a strongly worded, 7-page letter, Air Pollution Control District Director Ted Schade tears apart the Los Angeles Department of Water and Power's refusal to clean up a remaining three square miles of pollution.  The refusal,  Schade says, is "not based on law or science, is not a reasonable conclusion and would subject the Owens Valley public and environment to many additional years of unhealthful dust."
Schade exposes DWP's denial of the dust problem as an old tactic described by Schade as "denial, delay and broken promises."  The APCD Director carefully points out that by law and by agreement with DWP, he is bound to examine the lake bed for ongoing pollution.  He credits DWP with reduction of pollution by almost 80% of what was the "largest, single source of PM10 air pollution in the country."
The letter to DWP General Manager Ron Nichols is the Final 2011 Supplemental Control Requirements Determination, required by by law and by agreements with DWP.  It covers data between 2006 and 2010.  Schade describes the determination as a "reasonable requirement to control 2.93 square miles of additional areas" on the dry lake bed that caused or contributed to 112 violations of the federal 24-hour PM10 air quality standard.
Schade says DWP's claims that the 3 acres are not a problem lack "any credible supporting evidence." He says APCD does offer strong proof that DWP's claims are false – claims that the dust really comes from somewhere besides the dry lake bed or from construction-related activities.  Schade also reveals that DWP refused to cooperate with earlier talks that related to this new dust issue.
Schade's letter says, "Instead of controlling the undisputed air pollution and protecting public health and the environment, the DWP proposes to postpone all additional PM10 controls and, instead, conduct more studies."  Schade's letter says with regret that "this is not the time for a return to the pre-1998 days of denial, delay and broken promises."
Observers of Owens Valley water issues commented that DWP has used the same tired tactic of delay and study to stymie groundwater recovery.  According to the APCD board order, Schade has directed DWP to come up with a remedial action plan in 60 days to use pollution control measures on the some 3 square miles of lake bed and to prepare plans for 2 more square miles that are on "Watch" for pollution.
Sierra Wave placed a call to LADWP headquarters in Los Angeles to request a comment from General Manager Ron Nichols.  We await his reply.