In the new year, the Air Pollution Control District continues to lean on the Los Angeles Department of Water and Power to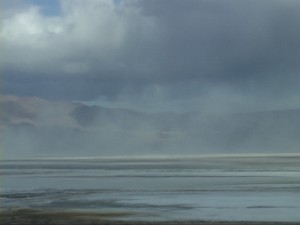 clean up dust pollution at the Owens Dry Lake.
Since October, DWP has been in violation of orders to clean up 3.1 square miles of the lake bed. DWP could face fines for failure to comply, but officials remain in negotiations toward a settlement.
APCD Director Ted Schade said that he and DWP officials are still in settlement negotiations. Schade said DWP is "very engaged" in the process with Water and Power Commissioners themselves involved in talks.
Schade said that he is very hopeful for a resolution. Officials continue to meet and maintain contact weekly over this issue. An abatement of dust hearing was continued from the December meeting of the local air board to the January 21st meeting.
Schade said, "The City realizes it's a big problem and will cost to fix and cover penalties." The main thing Schade wants to see are dust controls on the lake where most of the dust now rises.
DWP will next tackle a 2 square mile dust area that they will cover with one million tons of gravel over 18 months. LA did get permission from the State Lands Commission for this project. State Lands had earlier rejected the moat and row method of controlling dust with rows of dirt on the 3.1 square mile project.
The good news – Schade said that dust levels are 90%less now than when DWP started the Owens Lake clean-up. PM10 particulates, however, are still ten times higher than standards.