New Ansel Adams Wilderness Map Released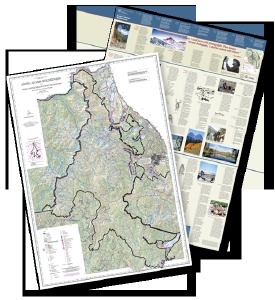 (US Forest Service press release)
BISHOP, Calif., Feb. 21, 2012 – The Forest Service has released its new map of the popular Ansel Adams Wilderness, managed by the Inyo and Sierra National Forests.  This topographic map replaces the older map which was last published in 1987. Included on the map is the Owens River Headwaters Wilderness, recently designated through President Obama's signing of the Omnibus Public Lands Management Act on March 30, 2009.
Designed to help visitors to the Ansel Adams, the 32"x45" waterproof  topographic map contains two different coordinate systems for users of global positioning systems (GPS), as well as the more traditional Public Land Survey System historically utilized by land managers and surveyors.  In addition to showing campsites and trailheads, locations for equestrian opportunities and resorts under special use permit are also illustrated. To further assist in ecosystem protection, permanent fire restriction areas are identified and roads and trails on the map reflect the results of the recent travel management plans for both the Sierra and Inyo National Forests.
Printed on the opposite side of the map is a full page spread of photos and information on wilderness permits, responsible use of fire, minimum impact camping, traveling with stock, as well as history, wildlife and highlights of the wilderness.
The publication of  the Ansel Adams Wilderness map was a true collaborative effort.  While published by the Forest Service, this map is an example of the increased integration of skills from private sector cartographers and visual communication specialists. The map and layout was produced by cartographer Daniel Spring, the text was compiled and written by author Angela Ballard, and the entire product was reviewed extensively by Forest Service recreation and wilderness specialists from the Sierra and Inyo National Forests. Professional photographers and illustrators represented in the production include Tyson Fisher, Rick Isaacs, Bart Smith, and Cynthia Brunner, as well as the esteemed writer and artist Nancy Newhall (1908-1974), whose photograph of Ansel Adams graces the top panel.
The map is available for purchase at local ranger stations and visitor centers, numerous map retail outlets or at www.nationalforeststore.com.