As news came out this week that another victim of the August 9th multi-car accident had died, the local CHP officers continue to wait for a final report on that horrible incident.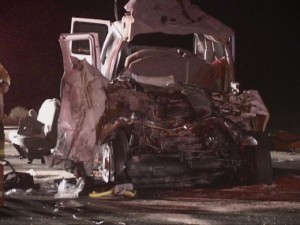 The most recent news pointed to 39-year-old John Adams, a track coach and professional fitness trainer, who had traveled with four young athletes to Mammoth Lakes for high altitude training. Adams and the runners left Mammoth from his friend's home, Stuart Brown, Mammoth Recreation Manager.
Adams suffered serious burns and trauma when the Ford Expedition he was in veered off the road then rolled over into oncoming traffic where the SUV burst into flames.
Adams had lingered at Renown Medical Center in Reno with what the CHP described as major trauma and internal injuries. Reports said that family finally took the step to remove Adams from life support. The Nevada coroner notified the Bishop CHP office of Adams' passing. His death is now added to the deaths of two teenage girls in the same vehicle and a cheerleading coach in the other vehicle which was carrying a dozen students headed to Mammoth for athletic traiing.
17-year-old Natalie Nield and 18-year-old Amanda Post died that night in the fiery crash of the SUV. 19-year-old Derek Thomas, who was reportedly the high school sweetheart of Amanda Post, suffered third degree burns and remains hospitalized. 22-year-old Drew Dellis, also in that same car, may still be hospitalized for burns.
The CHP in Bishop said that they can only wait now for the final report from the MAIT or Multidisciplinary Investigation Team to wrap things up.