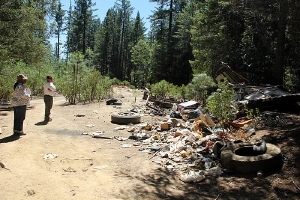 One local man, following our stories on Bureau of Land Management policing of old bottle collection, called Sierra Wave Media to say a bigger problem is current trash left out on public lands.
Roger Rilling of Mammoth Lakes pointed to the informal shooting range behind the Geothermal Plant. He called it a real problem because people use old television sets and other items as targets. Rilling said after people shoot up the TVs, they leave them there along with other trash. He said, "A couple of falls ago, the Forest Service hauled out 6,000 pounds of trash." He said the Four Wheel Drive Club has also done clean-up.
Rilling mountain bikes and hikes and says he sees lot of trash dumped on public lands. Marty Hornick of the Forest Service does encourage people to use the area behind the Geothermal Plant for target practice because it's "more contained." Hornick agreed that dumping of old appliances and other trash on public land is an ongoing problem. He said Forest patrols pick up items and if they identify where they came from, track people down. Hornick said, "There are people who don't want to pay to go to the dump."
At the Bureau of Land Management, Law Enforcement Officer Melodie Stehwien (Stwain) said people are "always dumping things on public land." She said people point to the limit on days that dumps are open and the fact that fees have gone up. Fines for dumping on BLM land vary, based on what is dumped.
Stehwien said, "People should take their trash where it belongs. Public lands are for all of the public to enjoy, not to abuse."