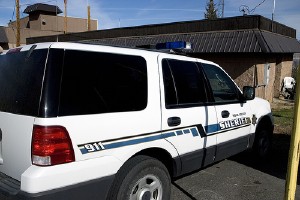 One week before her probation period ended, Mono Sheriff's Deputy Ingrid Braun was terminated. The 21-year Los Angeles Police Department veteran said Sheriff Ralph Obenberger told her "Looking at the big picture, this is best for my Department." Braun said when she asked the Sheriff if he would tell her what the big picture is, he said, no.
We called Sheriff Obenberger and asked him what he meant by the big picture and Braun not being best for his Department. He said, "I can't comment because this has to do with termination of an employee." Deputy Braun was the only female Deputy and also the only Deputy with a college degree in the Mono Sheriff's Office. Her husband, also retired LAPD, was working as an extra help deputy as bailiff. He quit when his wife was dismissed. Braun said she realizes Mono County policy allows dismissal of a probationary employee without stating cause.
Ms. Braun said she worked 21 years at LAPD and retired as a Lieutenant. She had worked as a watch commander, head of a gang and narcotics' unit, an investigator and a supervisor of an Internal Affairs unit, and other tasks. Braun said she left with a good record. Her husband retired after 25 years with LAPD.
The couple retired two years ago and because of their love of Mammoth Lakes and skiing, moved here. The jobs came up, and Braun, who is 45, decided to keep working. Asked how she feels about the dismissal, Braun said, "I feel sad, hurt and confused." She had been working as a patrol deputy mostly in Southern Mono County.
Former Mono Deputy Matthew Baumann said he personally trained Deputy Braun for about two months last year and "rated her above average and extremely competent on all of her daily performance evaluations." Baumann also said that Braun is "very well known, respected and liked in the community. She exemplified the role of a resident deputy, and in my opinion," said Baumann, "her termination represents a severe loss to the citizens of Mono County."