Another day of high winds picked up dust from the Owens Dry Lake to unhealthy levels.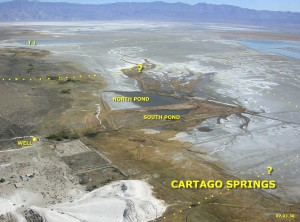 With more work to do on the DWP dust control efforts, Great Basin Air Pollution Control issued a Stage 2 health advisory Tuesday for the Lone Pine area, meaning that everyone, not just children, the elderly, or people with lung problems, should avoid strenuous outdoor activity.
Dennis Mattinson, with the EPA station at Fort Independence reports that the level of particulate matter in the air, (PM10) measured in Lone Pine had reached a level he hadnt seen in years. Mattinson reports that at times Tuesday, views of the Sierra and the Alabama hills disappeared in the dust clouds.
The level considered acceptable for health is 150 parts per cubic meter. With gusts up to 42 miles per hour in Lone Pine, the dust peaked today at 3039. Sunday, another dusty day in the Owens Valley, saw peak levels of dust in Lone Pine of 1342 parts per cubic meter.
Independence recorded a high PM 10 level of 761 Tuesday, again higher then the dusty day Sunday, on which Independence saw a high of 529.
While the Department of Water and Power has already covered close to thirty square miles of the lake bed with shallow water and plants to keep the dust down, officials with Great Basin Air Pollution Control report that crews are still at work on 12 more square miles of dust control.