– Press release
September 7, 2014 –  Abundant sunshine and cooler temperatures made for the perfect day to play a best-ball game of golf on Sierra Star in support of college and the arts in Mammoth.  Thanks to the generosity of players, sponsors and donors, the 15th Annual Mammoth Lakes Foundation Golf Classic was a hole-in-one for higher education and culture.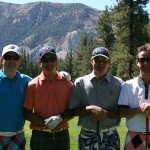 The field of 140 players at the event, sponsored by Ron and Shirley Heck, enjoyed beautiful weather, 18 holes of golf, and great food provided by Old New York Deli & Bakery–breakfast,  and Mammoth Mountain Ski Area–lunch sponsor, with the Awards Presentation sponsored by TRC Company, Inc./Charles Comfort.
Erica Sutch won the Putting Contest sponsored by Ormat; the raffle–with the $1500 Grand Prize Gift Certificate to Kittredge Sports & P3 sponsored by them, was won by Scott Taylor, with over 20 people also winning prizes donated by Mammoth Lakes Tourism, Andy Holzer of A Frame Liquor, Burgers Restaurant, The Troutfitters, and many more.  The SuperTicket prize of an Apple iPad Air was sponsored by Sierra Resources, Inc./Doug Eberts and won by Charles Scatolini.  The live auction ran for the first time as a live, on-line event throughout the tournament.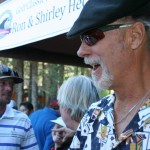 "I'm pleased both with the turn-out and the positive response to the experiment of using an on-line company–Bidding for Good, as our tool for expediting the auction process and expanding our potential audience of bidders," stated Mammoth Lakes Foundation Executive Director Dion Agee.  "Overall the feedback I received was positive.  It seems we may have discovered a way to be more efficient on multiple levels."
Additional thanks are due to many, including Dave Schacht of Sierra Star Golf Course who coordinated all the course activity, including a "Beat the Pro" contest on Hole 2 and the Putting Contest.  Fifteen MLF scholarship students also contributed their time, greeting players and selling raffle tickets at the Par 3s.  It was a wonderful opportunity for both sides of the scholarship donation to meet–the students sharing with the players what going to college in Mammoth means to them.
The list of supporters was impressive, attested to by the number of Hole and Tee Sponsor signs planted throughout the 18 hole course, as well as additional sponsors for Beverages (Sierra Resources, Inc./Doug Eberts) and Team Prizes (Mammoth Rock 'n Bowl).
The winning low score team with a final score of 55 for the day included Ian Birrell, Guy Bien, Christian Newman, and Craig Copeland.  The dubious honors for high score team was won by two teams with matching scores of 79–and included Suzi Jackson, Sue Bouska, Sheryl Saari, and Juliana Olinka.  The second team was made up of Kimberly Cannon, Chris Allen, and Richard and Stephanie Couts.  The "Blind Bogey" winning team consisted of Ashley Brussel, Chris Kierawa, Jill Grahek and Dave Hawtrey.
There were also "Closest to the Pin" contests an all four Par 3s, that were won by Kevin Jones on Hole 2; Larry McKee on Hole 7; Taylor Eastman on Hole 18; and on Hole 14, landing an impressive 1'1" away from the pin, Charles Comfort.
Hole Sponsors included American Landscape & Maintenance, Inc.; Al & Tracy Dykstra; KMMT/KRHV; Jack Lunch; The Mammoth Times; Richard and Markham, and Eric P. Wasserman/Wells Fargo Advisors.
In-kind & Tee Sponsors included:  A Frame Liquor, Alpine Paint, The Appel Family, Austria Hof, David Baumwohl-Law Offices, Bishop Country Club, Michael J. Bornfeld, Legal Counsel, The Breakfast Club, Burgers Restaurant, Cherne, Harrell & Parisky, Christopher Comfort, DDS, Coldwell Banker Mammoth Real Estate, Cox Construction Co., Disabled Sports Eastern Sierra, Diversified Mortgage, Inc., Eastman Homeowner's Service, Olson Insurance Brokers, Footloose Sports, Philip Freeman Roofing, Garden of Eat'n, Gourmet Temptations, Dennis & Dottie Hartman, In-line Chiropractic, Suzi Jackson and Sue Bouska, Jimmy's Taverna, Dr. Marc Kayem, Kendra Knight Photography, KIBS/KBOV Radio, Lois Klein on behalf of Mammoth Unified School District, KMMT/KRHV, Looney Bean, Jack Lunch, Dave , McCoy, Mammoth Diamond Company, Mammoth Lakes Lions Club, Mammoth Lakes Repertory Theatre, Mammoth Lakes Tourism. Mammoth Luxury Outlets, Mammoth Mail Delivery/Dierdre Agee, Mammoth Mountain Ski Area, Mission Janitorial & Abrasive Supplies, The Mogul Restaurant, Mono County District Attorney's Office (Public funds were not used for this sponsorship), Mountain Carpet & Tile , Andrea & Dan O'Connell, Pita Pit, Kathleen Rudder, Evan Russell, Neil Sherman, Side Door Café, Sierra Nevada Resort & Spa, Sierra Star Golf Club, Sierra Wave Media, Simply Massage, Thai'd UP!, The Troutfitter, Westin Monaché Resort, and Z Ranch  Money from the Golf Classic goes toward supporting student scholarships, increasing cultural programming for the community and other educational support programs.
For information on the Mammoth Lakes Foundation and how you can help support higher education and cultural enrichment in the Eastern Sierra, call 760.934.3781.  It's a Dave McCoy thing!
The Mammoth Lakes Foundation is dedicated to supporting higher education and cultural enrichment in the Eastern Sierra. Recent successes include supporting Cerro Coso Community College that supports an enrollment of 500 students between the Mammoth Lakes and Bishop campuses;  creating and managing a state-of-the-art student apartment facility, providing over 600 college scholarships to date for attendance at the Cerro Coso campus,  and presenting theatrical offerings at the Edison Theatre 100-seat venue. For more information or to make a tax deductible donation please contact the Foundation at (760) 934-3781 or visit MammothLakesFoundation.org. Our nonprofit work is only possible through your generosity.