Independence resident Ann Capodanno passed away in Flagstaff, Arizona, on July 4 after a brief battle with cancer. She was 83.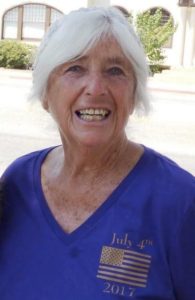 During an adventuresome life that took her from her East Coast home to numerous stops across the West even as far as Hawaii, Ann discovered the Eastern Sierra. She lived throughout the Eastern Sierra spanning June Lake in the late 60s to Death Valley, Bishop and Olancha, but Independence was where she called home when in the Sierra, living there the last four years.
Although she was a dedicated, skillful and caring nurse who also earned her Nurse Practitioner credentials, and who worked well into her 80s, Ann was one of those rare souls who decided work would only be a means that would allow her to enjoy the more important things in life.
Topping that list for Ann was her deep, sustaining Christian faith and in her later years a growing curiosity and acceptance of the inner teachings & truths found in all religions. Family and friends knitted the fabric of Ann's life. Her devotion and love for daughter Holly and grandson Bear defined her place in life, along with her large Irish-Italian family, and wide array of friends she gave and received great joy.
She showed her kindness and generous spirit to those she cared for, her friends and those who crossed her path. In Ann's forgiving eyes, everyone was just doing the best they could and always deserved a compliment or blessing.
Ann was committed to serving her community and her country. She was passionate about politics and participating in the political process on the local, state and national levels. Ann loved a good political debate and discussion and her positions were well-researched and passionate. She was a tireless volunteer at church and in each community she lived in. Her actions and faith made a difference in dozens of ways, large and small.
Enjoying the outdoors was another hallmark for Ann. She was a downhill skier in her younger years and continued to enjoy cross-country skiing and taking long hikes in the mountains with her dog by her side. One season she worked as a trail cook for a local pack company.
One of her favorite outings was camping in the desert, especially Death Valley and Tecopa. Ann got great enjoyment out of painting watercolor landscapes of the Sierra, and dedicated hours to working on her paintings. Her many travels, whether back East to visit family or to Katmandu, Nepal always turned into adventures.
Her friends said they would miss her kindness, passion, grounded spiritual outlook on life, and, most important, her smile and easy laughter.
Ann Norma Capodanno was born on November 4, 1934, in Attleboro, Massachussets. She was one of six children of Anthony and Madeline Capodanno. She went to elementary school at St. Mary's School in Attleboro and high school at North Attleborough High School, where she was an active athlete and a cheerleader.
She got her nurse's training at St. Elizabeth Hospital in Boston, Mass. Ann then set out for the West, and ended up at Sun Valley, Idaho, where she worked as a nurse and skied. She met her husband, Bill McKusick, at Sun Valley, where he spent his winters on the ski patrol. The couple moved to La Jolla where daughter Holly was born.
When the marriage broke up, Ann and Holly moved to June Lake. Ann cooked at the ski lodge and taught skiing to children. Later she moved to Independence where she worked at Lasky's Convalescent Hospital in Lone Pine as the nursing director. In addition, while in the Eastern Sierra, Ann worked as a nurse and mentor to young nurses at Southern Inyo Hospital, the Big Pine Care Center and the Inyo County Public Health Department.
After spending time in Hawaii and New Mexico with her daughter and grandson, they settled in Flagstaff. She worked as a nurse for Coconino County doing both home health and mental health nursing. In the past four years in Independence, Ann worked as a 'laundry angel' for a local motel, was a stalwart at the Pioneer Methodist Church, and volunteered for the Independence Civic Club and the Owens Valley Grower's Coop. She continued to paint and baked cookies for sale at the local Farmer's Market.
Ann is preceded in death by her parents, siblings Rita, Tony, and Judy. She is survived by sister Joan and husband Ray, of Cape Cod, sister Edna of Massachessetts, daughter Holly McKusick and grandson Bear McKusick, of Flagstaff, Ariz and life long friends Raymond Gengeni, Jennifer Duncan, Toni Bayer and Tamara Cohn.
Ann's ashes were spread at Sunset Crater outside of Flagstaff, one of her favorite walks.