"Animals in Art" Gallery Exhibit ~
October 15 – November 30, 2012  (Photos by Lisa Schade)
Inyo Council for the Arts (ICA) Gallery, in cooperation with ICARE,  is hosting the "Animals in Art" exhibition featuring  the work of 17 local member artists, October 15 through November 30, at 137 South Main Street in downtown Bishop.

There are more than 60 paintings, photographs and drawings all while supporting great programs for animals (ICARE) and art (ICA). Artwork by well-loved local artists; Jill Kinmont Boothe, Rita DuShane-Jones, ChristineEyer, Ron Luce, Mary Matlick, Cheryl McDowell, Ed Nahin, Nancy Overholtz, Lynn Marit Peterson, Inna Jane Ray, Beverly Schroeder, Mickey Short, Laura Talbot, and Maryann Thomas.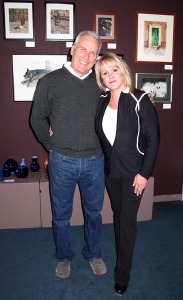 Jill Kinmont Boothe's limited edition framed giclee print " First Alert" has the beauty and grace of the Deer it depicts, in her mastery of the watercolor medium. Rita DuShane-Jones and Mary Matlick's  pieces are bold color statements conveying the artist's love for animals. Photographer Beverly Schroeder shows her sensitive and touching series of photographs and posters on the subject of the Pet Cemetery in Bishop. Ed Nahin photographs the beauty and freedom of the wild horses of Montgomery Pass Territory. Delicate and precise, the watercolors of Nancy Overholtz, Christine Eyer, Ron Luce, Cheryl McDowell, and Lynn Peterson capture the beauty and diversity of the animal word, while Inna Jane Ray's pieces are mixed media and whimsical. Full of life and vitality, the watercolor chickens of Mickey Short are jewels unto themselves.  Laura Talbot's pastels bring to life the spirit and personality of our furred and feathered friends.  And the diverse work of Maryann Thomas, explores the power of the Polar Bear to the serenity of sheep grazing in a field.
The "Animals in Art" gallery exhibit will run from October 15 thru November 30 at the Inyo Council for the Arts Gallery which is open weekdays 10 am to 5 pm.  A portion of the proceeds from the sale of artwork will be split to benefit both non-profit organizations; ICARE (Inyo County Animal Resources & Education) and ICA (Inyo Council for the Arts). What a great idea for your  holiday shopping!

To learn more about these worthwhile organizations you may visit their websites, ICA: www.inyo.org, and ICARE: www.icareforpets.org