A visit to the animal shelters in our two counties this week will find dozens of homeless cats and dogs. They need you to come and get them.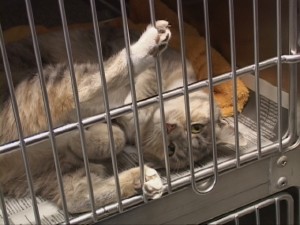 At the Inyo County Animal Shelter, Julie Laughon said it's overflowing with animals. 32 cats and 21 dogs await adoption. At the top of the list is Bo, a yellow lab mix about a year old who has waited for someone to come and get him since July.
At the Mono County Animal Shelter outside Mammoth, Rebecca Bone said that plenty of dogs, cats and kittens remain available for adoption. Specifically, Tucker, the Lab Mix, 1 year old; JoJo, the English Pointer, 3 years old; Red Dog, a Chow Mix, 4 years old and very sweet; Amy a one-year-old Shepherd Mix; Humphrey, a Jack Russell Mix, one year old; and in the Bridgeport Animal Shelter Yodi, a Shepherd about 6 years old.
Check them all out. The Whitmore Animal Shelter in Mono is open Tuesday through Saturday, 10:30am to noon and 1pm to 5pm. Call 935-4734. The Inyo Animal Shelter is open Tuesday through Friday, 10am to 3pm and Saturday and Sunday, 11am to 4pm. Call 938-2715.