November 6, 2013
ICARE's "Raise the Roof—a Cause for Paws" Fundraising Campaign is Underway for a New Inyo County Animal Shelter and Pet Adoption Center
ICARE (Inyo/Mono Animal Resources & Education) is pleased to announce the launch of a final push to raise funds to build a new Animal Shelter and Pet Adoption Center in Big Pine. According to ICARE President, Ted Schade, "The existing Inyo County Animal Shelter was constructed as a milk barn at the county farm in the 1920's and was never intended to be used as a shelter for companion animals. Both InyoCounty and ICARE have invested in improvements to the existing facility, but the time has come to move out of the old inefficient, uncomfortable facility and build a new Animal Shelter and Pet Adoption Center."
The proposed new Animal Shelter is taking into consideration current and future needs and will have about 40 percent more dog kennels and cat cages. It will have outdoor areas for the pets, feeding and grooming rooms and a comfortable space for the public and county staff. More importantly, the new Animal Shelter will be specifically designed to be a shelter for animals and, with less time spent on daily cleaning and maintenance, staff and volunteers will be able to spend more time with the animals to improve behavior and ready the pets for their new homes. In addition, a more inviting facility will attract more visitors, adopters and volunteers, enabling more animals to be saved.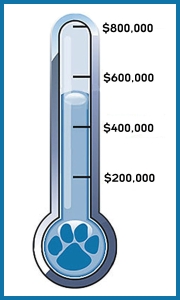 According to Schade, "The effort to construct a new Animal Shelter is not just about housing lost and homeless pets. It is also about continuing the 15-year collaboration between ICARE and Inyo County to minimize the number of pets that have to be euthanized and maximize the number of pets adopted from the Animal Shelter. By providing a center for both pets and people that will be more spacious, more comfortable and more efficient, the dogs and cats will be better cared for and the public will have a PetAdoption Center that we can all be proud of."
Inyo County estimates that the new shelter and its necessary site improvements will cost about $800,000. The good news is that between ICARE, Inyo County and a generous anonymous donor, about $500,000 has already been raised. ICARE hopes that this campaign will raise the remaining $300,000 needed to begin construction.
The "Raise the Roof—a Cause for Paws" fundraising campaign will raise the remaining funds needed to build the new Animal Shelter and will acknowledge donors on a "Donor Recognition Wall" in a prominent location at the new facility. There will be four "Paws" donation categories: Platinum, Gold, Silver and Bronze. "Platinum Paw" contributors will donate at least $5,000, which is enough to fund one dog kennel or two cat cages. "Gold Paw" donors will contribute at least $2,500, enough to fund one cat cage. Those donating at least $1,000 will become "Silver Paw" donors and everyone donating $500 will be a "Bronze Paw" donor. Donations and Recognition Wall acknowledgement can be made in honor or in memory of family, friends or pets. Of course, donations of any amount are welcome and appreciated.
For more information on the new Animal Shelter and Pet Adoption Center and on the "Raise the Roof—a Cause for Paws" fundraising campaign, visit the ICARE website at ICAREforPets.org or call ICARE at(760) 872-3802.