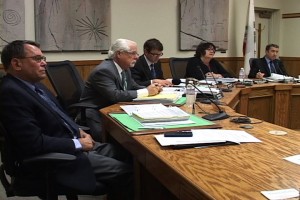 The Inyo Supervisors planned to start their meeting today with nine closed session items. The regular agenda was scheduled to start at 10 am.
One of the closed sessions deals with a suit brought by John Thomas Christiana against Inyo County Health and Human services and a psychiatrist. Christiana was convicted in the arson fire that destroyed the Bristlecone Visitors Center. His competency to stand trial had been questioned, but ultimately Christiana was found competent to go through legal proceedings.
Another closed session was set to be held on the case of former Mammoth Police Sergeant Eric Hugelman against Inyo County and others. According to Inyo Superior Court, a motion filed asking for dismissal of Hugelman's case was granted at the end of August. Some four years ago, Mammoth Police fired Hugelman for his involvement in a fight at Rusty's Bar in Bishop. He was eventually reinstated but has a case going against the Town of Mammoth. Hugelman initially faced charges in Inyo County, but the Inyo DA dismissed them.
On the regular Board agenda sometime after 11:30 am, the Supervisors planned to hear an update on fundraising efforts of the ICARE organization for the construction of new animal shelter facilities. The County Administrator, Public Works and the Sheriff were scheduled to take part.
The current animal shelter offers only minimal facilities for the many abandoned dogs and cats. ICARE's pet adoption program and spay and neuter program have gone a long way to eliminate many of the numbers of animals that were previously destroyed. Most agree, however, that a new and larger animal shelter is badly needed.