The deals are cut, the production crews have arrived in Mammoth and work continues on three new hours of The Bear Whisperer that will air on Animal Planet in months to come.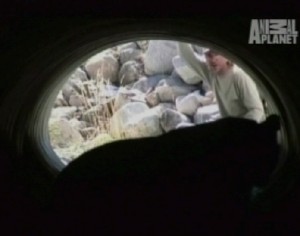 Steve Searles will once more star in the episodes as he deals with the bear population in Mammoth Lakes. The three, new hour-long episodes follow the initial Bear Whisperer program that aired much earlier and garnered a good audience.
In fact, Searles said visitors have stopped him to say that they traveled to Mammoth because they saw The Bear Whisperer. Searles said that the Animal Planet shows will give the most benefit to the Town of Mammoth. He said the shows amount to free marketing value nationally and internationally worth "millions in publicity" for Mammoth Lakes.
Searles himself will likely appear on talk shows to promote the new episodes. LMNO productions will continue their work in Mammoth Lakes over the next couple of months as they film many hours of bear antics and Searles' response.
Crews had earlier said that they would focus more in the new three programs on the beauty of Mammoth Lakes. Exact air dates of the new shows are not yet known.