In his own town, Steve Searles stands out as a provocative figure. He's kind of a guy people love or hate. Searles built fame
here and literally around the world with his intuitive knowledge of bears and how to keep them away from people. While some in his own county fail to grasp his unique status, television moguls have no problem. The Discovery Channel and Animal Plant made Searles an offer he did not refuse – three one-hour episodes with an option for more shows, ala "Bear Whisperer" which still airs on Animal Planet. LMNO Productions initiated the Bear Whisperer show concept.
Searles made his TV debut earlier this year when Animal Planet aired "Bear Whisperer", a show focused on Searles' interactions with bears in Mammoth Lakes. The show revealed none of the sometimes bitter politics of bear management. The new shows apparently won't either.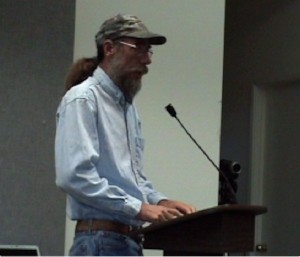 Searles said lots of video has been shot for the new episodes. He said the TV producers are so impressed with what they call the "idyllic beauty" of Mammoth, that they will work more of that into the new shows. Unbeatable publicity for the resort town.
The new shows, currently un-named, will also focus on the biology of the bears and how they enter their dens and spend months there. The programs will also focus on Searles' public education work on bears.