The animal neglect case in Inyo County that involves 47 cats was continued until early November.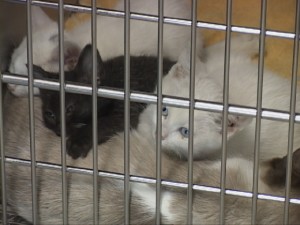 Inyo Animal Control had learned of the cats that were living in a van belonging to Catherine Maffioli. She now faces animal neglect charges. Sources said the cats were ill, had one litter box and very little water. They now live at the Animal Shelter where Inyo County foots the bill for food and litter.
Inyo District Attorney Art Maillet said Maffiolis defense attorney provided his office with discovery, facts pertinent to the case, yesterday. The DA is entitled to 30 days for review.
Meanwhile, a civil process moves forward. Maffioli will appear before a hearing officer on the cat situation. DA Maillet said that she will have to make payments to cover costs and satisfy the hearing officer that the cats wont be neglected before she would ever get them back. Fees already add up to more than $5,000.
DA Maillet also assured that his office has not dismissed charges against Maffioli.