By Deb Murphy
Like swallows to Capistrano on March 19, trout anglers home in on Bishop and the Pleasant Valley Reservoir in mid-March for the Blake Jones Trout Derby. And this year was a stand-out.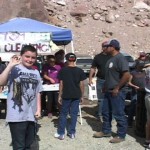 First, the weather was perfect: warm, sunny and, best of all, wind-free. Second, the biggest fish of the derby was gigantic, 12 lbs., 8 oz, caught by Thomas Nieto of Bakersfield.
Sponsored by the Bishop Chamber of Commerce, the Derby celebrated its 48th year this past Saturday. "We couldn't do this without the help of the City of Bishop, the County and all our volunteers," said Tawni Thompson, Chamber executive director. Derby sponsors provide prizes ranging from float tubes, boats, paddle boards, every form of fishing gear known to man as well as dinners and lodging from local businesses – all totaling more than $10,000.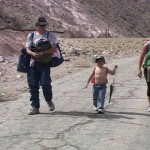 It doesn't seem to matter if the weather is Chamber-perfect or a Nordic wind gusts up the canyon, anglers come in droves to fish from the reservoir southwest to the Wild Trout section of the Owens River. Two brothers, one from Burbank, the other from Colorado, have made Blake Jones an annual event for the last 34 years. One of the Blind Bogey winners, Gary Smots, has been coming here from La Palma for the last 30 years.
By mid-afternoon, most of the serious fishing is done and the anglers with skin in the game gather at the Derby tent for the weigh-in and the announcement of the Blind Bogey weight: this year, 9 oz. The first name drawn was Susie Carlton who walked away with the top prize: an inflatable boat. Ethan Williams from Bishop was the first name drawn for the kids' Blind Bogey prize, a float tube and bag of goodies. Ethan slept through the awards ceremony as did brother Levi whose name was also drawn.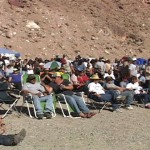 Another Blake Jones tradition is the fish cleaning booth manned by the Mount Tom 4-H Club kids, ages 9 to 15. The organization has been gutting trout as a fund raiser for the last six years, with no injuries, according to club leaders.
###
Press release from the Bishop Area Chamber of Commerce and Visitors Bureau
The weather could not have been more beautiful at Pleasant Valley Reservoir, just north of Bishop this past Saturday for the 48th Annual Blake Jones Trout Derby.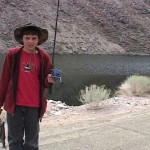 The Bishop Area Chamber of Commerce & Visitors Bureau elcomed over 800 anglers to compete for more than $10,000 in prizes at this year's event.  Over 1,300 fish were caught with several lunkers weighing over 7lbs!   The secret "Blind Bogey" fish weighed in at 9 ounces, with many anglers in that category competing for the blind bogey raffle prizes.
The lucky winner of the Blind Bogey Grand Prize was Susie Carlton of Pinion Hills.  She won a package including a float tube from Northfork Outdoors plus loads and loads of great tackle & gear!
Other Blind Bogey winners also received fantastic prize packages:  Jackson Saivea (Buena Park), Vincent Norte (Banning), Levi Williams (Bishop), Bruce Walker (Orange County), Chet Jenkins (Bishop), Grace Henze (Irvine), Matthew Romero (Los Angeles) and Ryan Kiddo (Bishop).
Prizes in the "Big Fish" category were awarded to: Thomas Nieto (Newbury Park) – 12 lbs. 8oz; Sam Blum (Bishop) – 10 lbs. 12oz., and Lianne Parker (Glendora) – 7lbs. 12oz.
Many prizes were also awarded to children.  Kids' 1st Place Winner was Ethan Williams, Jr. (Bishop).  Ethan took home a loaded fishing package including a rod & reel combo, bait, tackle & great gift certificates.
Since 1968, the Blake Jones Trout Derby has proven to be a favorite event for locals and visitors alike.   The derby is organized by the Bishop Area Chamber of Commerce & Visitors Bureau with the help of dozens of sponsors and a small army of dedicated volunteers.  "We would never be able to host such a wonderful event without the support of our community and generous prize donors," states April Leeson, Chamber Events Coordinator.  "Inyo County provides financial assistance through the Community Project Sponsorship Program and we are very grateful to the City of Bishop Parks & Recreation Crew for help with the heavy lifting," adds Tawni Thomson.
Sponsors of the 2015 Blake Jones Trout Derby Include:  Alpine Signs/395 Store, Adventure in Camping, Alta One Federal Credit Union, Ashley Furniture, Bee Gee Beauty Supply, Berkley, Bishop Creek Lodge, Bishop Nursery, Bishop Twin Theater, Bishop Veterinary Hospital, Bishop Village Motel, Bite-On, Blakemore TTI, Body & Soul, Brown's Supply/ Brown's Town, CA Department of Fish & Wildlife, CDF/Owens Valley Camp, City of Bishop, Comfort Inn, County of Inyo, Culver's Sporting Goods, Davidson Taxidermy, Desert Springs Trout Farm, Double Eagle Resort, Dr. Slick, Eagle Claw, Erick Schat's Bakkery, Fish Story Lori, Fish Taco Chronicles, Fisherman's Landing, Gillespie Distributing, Gypsy King Tattoo, Hendrix, High Country Lumber, High Sierra Containers/West Coast Barns & Sheds, High Sierra Distributing, Holy Smoke Texas BBQ, Home Lumber, Imperial Gourmet, Inland Aquaculture, Inyo Mono Title, Jack in the Box, Joseph's Bi-Rite Market, Keough's Hot Springs, Kmart, La Casita, Lake Mary Marina, LaQuinta, Looney Bean, Los Angeles Dept of Water & Power, Macs Sporting Goods, Main Street Trading Company, Mammoth Brewing Company, Manor Market, McDonald's , McMurry's, Meadow Farms Smokehouse, Mountain Title Company, Mule Days Celebration, New Cali Landscapes, Northern Inyo Hospital, Northfork Outdoors, Paiute Palace Casino, The Petite Pantry, Pizza 395, Preferred Septic & Disposal, Protroll, Rainbow Pack Outfit, Reagan's Sporting Goods, Rite Way Pool & Spa, Rusty's, Sage to Summit, Save-On, Sierra Black Diamond Limo, Suddenlink, The Toggery, Tom's Place, The Trees Motel, Turner's Outdoors, The Video Place, Western Nevada Supply and Wright & McGill.
The Bishop Chamber extends extra thanks to Harold Reuter and the fish weighing crew, Burt Brown and Steve Ivey for running the shuttle truck, announcer Chuck Kilpatrick, Inyo County Probation Community Service Workers, Shannon Romero of Mountain Apparel, Ray Robles of Berkley and everyone else who helped and participated in the derby.  "We're already looking forward to 2016!" notes April Leeson.