In June, magician Criss Angel made the trip to Mammoth Mountain where he performed one of his death-defying stunts. Angels crew handcuffed him, put him in a coffin and buried him under 6 feet of snow on Mammoths slopes. He calls it White Death and the stunt will air on Angels A&E Network show, Mindfreak tonight.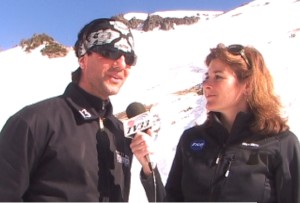 Criss Angel has mastered the art of illusion. In his show in Las Vegas, the escapologist seems to have walked on water, levitated above the Luxor Hotel, floated between buildings and cut himself in half.
Why the stunt at Mammoth Mountain? Angel had told Cleland Hoff that he wanted to push my own envelope and create one of the greatest escapes of my career. I thought Mammoth was the perfect place.
Angel said he hoped to escape from under 5,000 pounds of snow in 30 minutes. Check it out Wednesday night at 10pm on A&E. Criss Angel Mindfreak.